Come to the CVBBA Breakfast Meeting
Saturday, February 23rd
9:00 a.m.
BLOSSOM'S RESTAURANT
597 South Clinton Street
Denver
Cost is $15.00 which includes Hot Breakfast Buffet - orange juice and coffee, fresh cut fruit, toast, hash browns, scrambled eggs, bacon, sausage and omlette station
----------------------------------------------------------------------------------------------------------------------------------------------------------------------------------
The Colorado Vintage Base Ball Association (CVBBA) is a non-profit organization founded in 1993 dedicated to the preservation of the history of 19th century base ball in Colorado, and the education of the public through demonstrations, workshops, lectures and living history performances in the form of matches.
The Association meticulously researches details of uniforms, equipment, lexicon and lifestyles in an effort to represent the sporting life in Colorado more than a century ago. Some teams that actually existed are recreated according to the best documentation available, with gaps filled by reasonable deduction from the progress of the sport outside the region.


Matches are played by rules representative of the earliest days of the game in Colorado, with a heavy emphasis on living history interpretation and ''thespianism'' to reflect the competitive spirit being tempered by Victorian ideals of gentlemanly and fair play. Prospective gentlemen and lady ballists (players) should be aware that the CVBBA is not a competitive league, and game results are always subordinate to its educational and entertainment goals.
The CVBBA is not only for ballists. A large number of civilian roles are utilized to carry off the full theatre of a late 1800s game: the umpire (who may tote a six-gun to maintain order and scare off the occasional coyote), tally-keeper, reporters, politicians, society ladies, suffragists, abolitionists and a host of cranks (spectators) are fully integrated into the show, and encouraged to make their presence felt.
Vintage base ball is a relatively inexpensive hobby to become involved with. Uniforms can be obtained for $125 to $200, and costumes for cranks can be even less expensive. Most activities are easily concluded on a weekend afternoon, but for the adventurous, several overnight trips throughout the region are also planned every season. There are functions for every member of the family, and what better way is there to spend a leisurely day than with your family, enjoying the national pastime the way it was meant to be played!

Click here to check out the 2017 STATS sheet.
Provided in PDF format.

2017 Bisbee, Arizona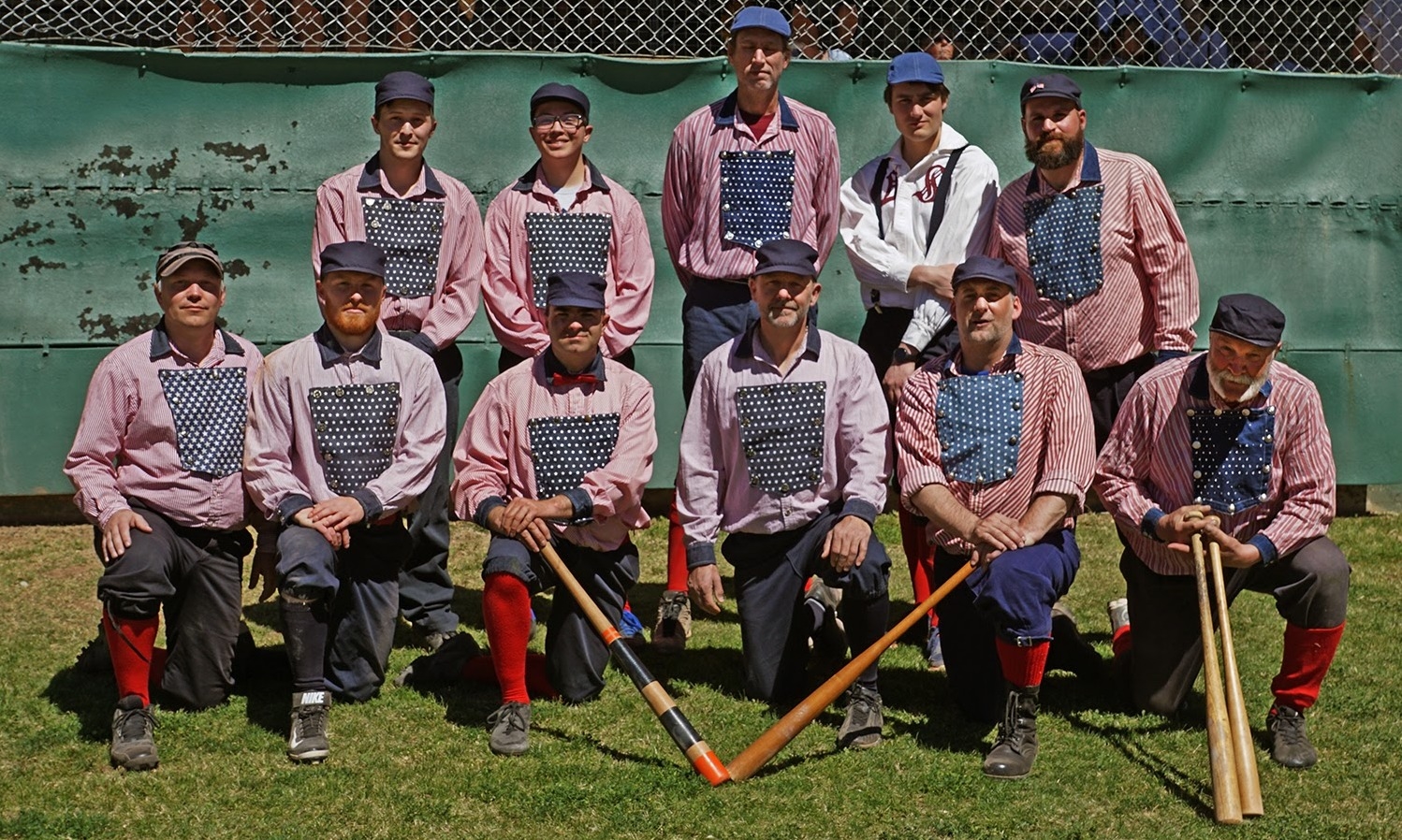 Click ABOVE picture to view pictures and commentary by "Bucky" Biwer

BOOKS
**Click Image to go to Amazon.com to purchase**

CVBBA players represented on
2014 Phish Fuego CD Cover Art
PHOTO: S.K. WIER ARTIST: PACO POMET
From Left to Right:
"Swede" Peterson - "Rube" Foster - "Colorado" Phelan - "Suds" Knezevich - "Fearless" Foster - "Cyclone" Erickson
Rendition of original photo from 2012 Heritage Fair, FT. Lupton, Colorado

Membership Dues
~ $35 for an Individual ~

~ $50 for a Family Membership ~

*** Any current member in good standing is eligible to receive a $10 credit towards next years membership fee for recruiting new members! (You can recruit up to 5 to offset your "Family Membership", NO money will be transfered to following years.) ***

The Official
CVBBA Watering Hole
4381 W 120th Ave, Broomfield, CO 80020